If you are considering purchasing your first tarot deck, you can feel overwhelmed by the number of options that are currently in the market. It is natural to be unsure about what is the best tarot deck for beginners! Hopefully, you will find some clarity by going through this curated selection of good tarot decks for beginners and find your ideal match.
Continue reading to discover what are the stronger points of each one of the decks and find out what is the one that suits your personal preferences, style, and budget more accurately!

What is the best deck for the beginner?
Tarot Rider is always a safe bet when it comes to the purchase of your first deck. However, it is not an absolute necessity! The most important thing when purchasing your first deck is that you feel comfortable with your choice and that you feel connected to the artwork. This will make it easier for the meanings to sink.
However, if you are looking for a solid deck that can be a lifelong companion, it is my advice that you decide for a classic, such as Tarot Rider in any of its different versions, Morgan Greer or Hanson Roberts.

What is the best way to start using tarot?
The best way to learn tarot is, without a shadow of a doubt, practicing every time that you can. Of course, studying how the system works and the meanings behind the cards are important, but the only experience will make you a great reader!
Keywords can be really helpful when you are just starting your tarot journey. While they won't give you a cohesive and powerful reading per se, they can be the foundation upon what you build the rest of your knowledge.

1. Universal Waite Tarot Deck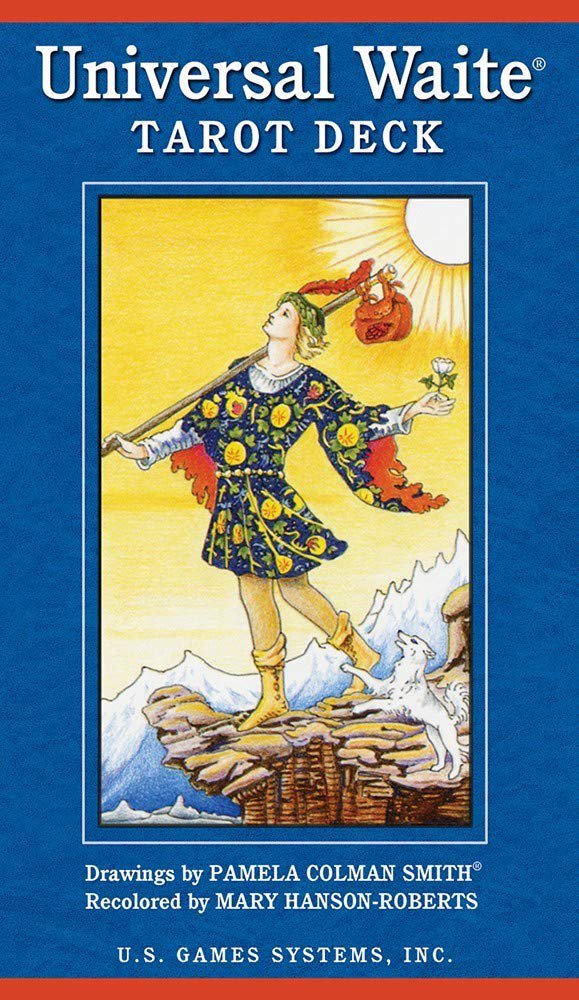 This deck is a refined version of the classic Rider Waite Smith Tarot, one of the best selling tarot decks of all times, so it will be very easy for you to learn with this deck provided that most explanatory books, courses, and resources are based on its imagery.
The cards come in standard size with white borders and a resistant and flexible cardstock that is easy to shuffle and carry around. If you are already familiar with Tarot Rider, you might find the recoloring of this version a bit too soft depending on your personal taste. If you prefer a brighter and more detailed edition, you can give a look at the more recent Radiant Waite. Either of these decks of cards is very solid options for beginners, easily available and within a very affordable price range.

2. The Robin Wood Tarot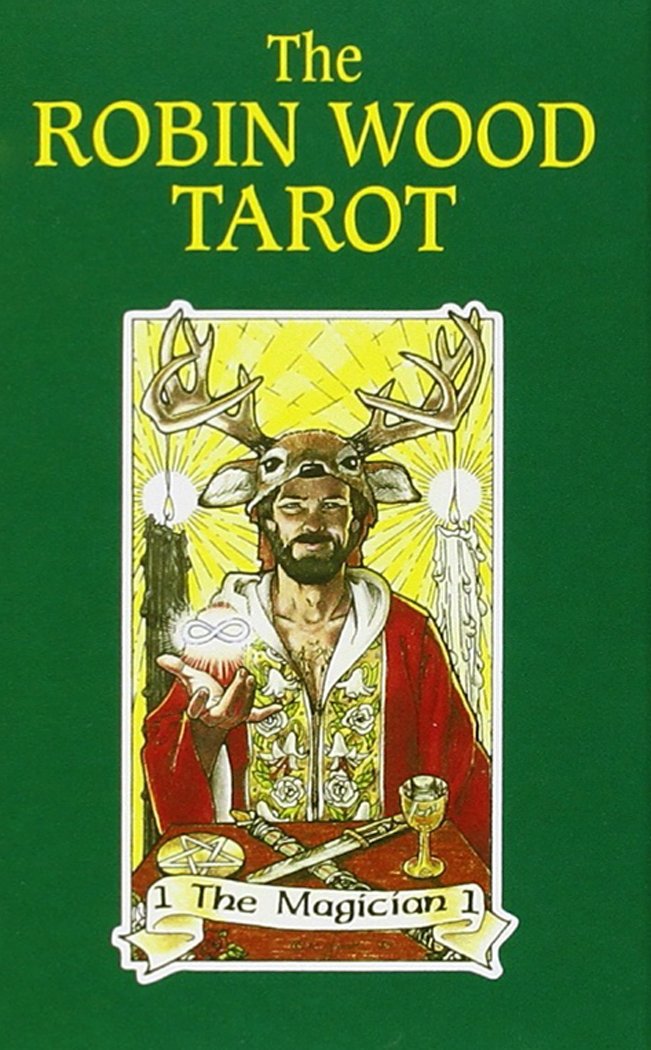 One of the most beautiful tarot decks for beginners, the Robin Wood Tarot is a deck with a strong Celtic inspiration and very rich pagan symbolism. Those into a pagan spiritual path will easily identify the meanings behind the cards and enjoy the detailed pictures that help intuitive reading. Being one of the most popular tarot decks, it is pretty easy to find references and learn.
The deck is printed in sturdy cardstock, making for a hard-duty deck! It comes in a set with a book that explains the meaning behind each card, making it even more simple to get started! The artwork is delicate, yet charged with intention and simply delightful to see. One of the stronger points of this deck is its price and availability, for it is fairly easy to acquire and apt for most budgets.

3. Gilded Tarot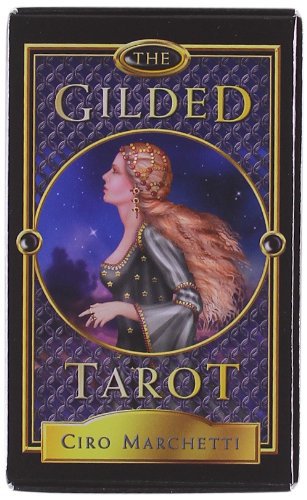 By the renowned Tarot artist Ciro Marchetti, Gilded Tarot is a classic among beginners and seasoned readers alike. The deck was originally created during the early beginnings of digital art, giving an early 2000's flavor to the reading. The images are clear enough to allow for memorization of meanings and easy identification, yet intricate enough to be visually appealing.
The cardstock is not very flexible, so it is not a great option if you riffle-shuffle, but it is overall resistant. This deck has a standard size, black borders, and a glossy finish. It comes in a set with an explanatory book to help you kickstart your tarot journey! The latest editions of the deck are presented in a magnetic comfort that allows for safe storage of both the deck and the book.

4. Everyday Witch Tarot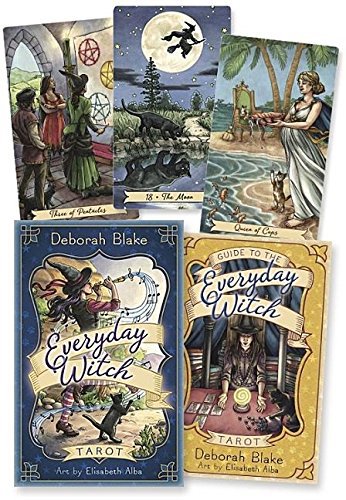 This is one of the top tarot decks for beginners for its beautiful design and its friendly cards. This is a very good option for beginners, especially those who feel a little bit scared of tarot. The pictures are very non-intimidating without losing their meaning and it is easy to relate to the original message behind each card through the depictions. It comes as a set with a book in full color that explains the essence of each card as well as some basic tarot foundations and simple spreads, so it is a fantastic option if you are considering to become a reader.
The cards are standard size is quite flexible cardstock. This is a borderless deck, which is amazing for the lovers of the artwork, however, it can cause any chipping due to shuffling more noticeable, so it is advised to handle with care.

5. Vivid Journey Tarot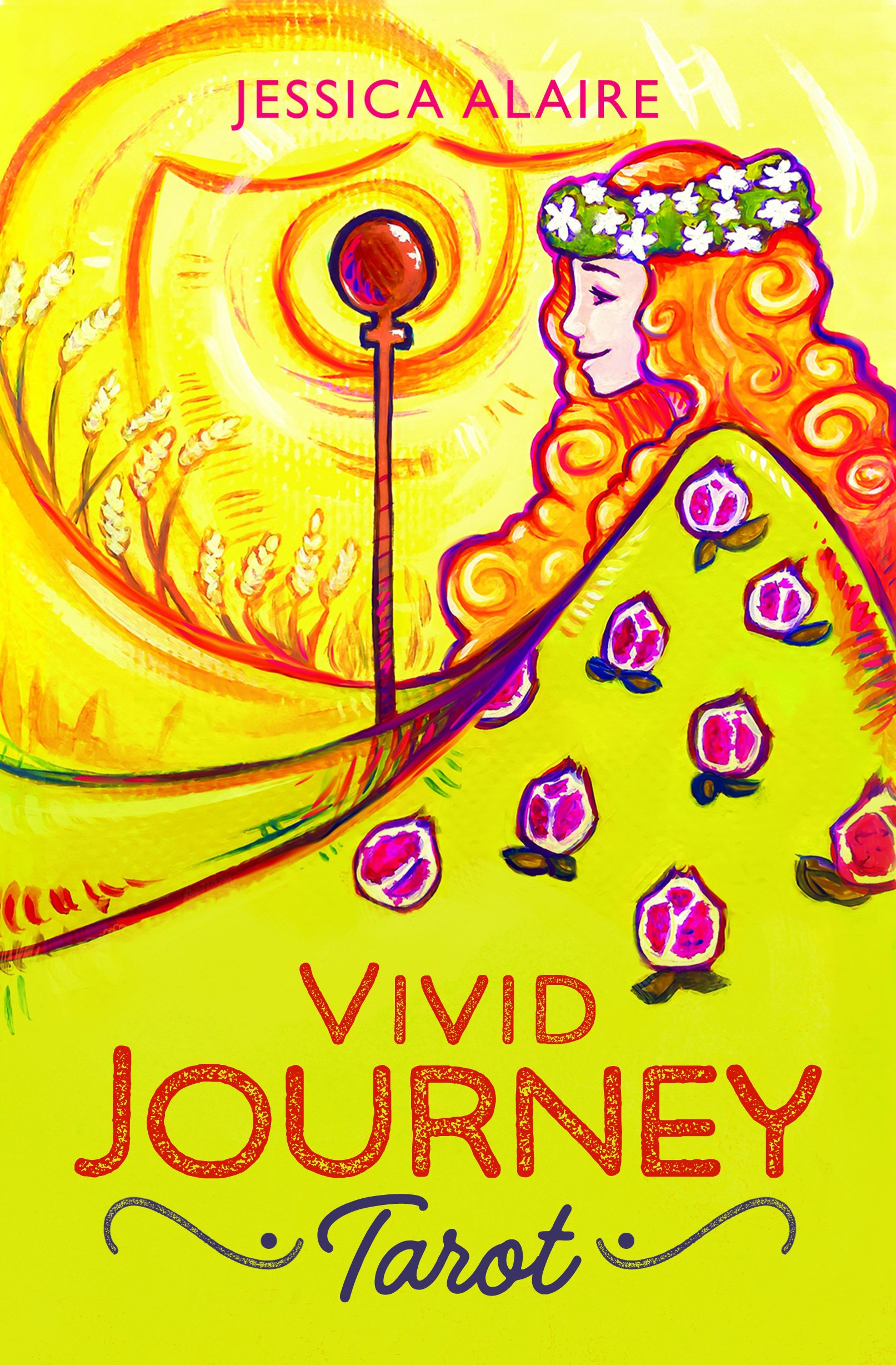 This colorful deck is one of the most pretty tarot decks for beginners for its, as the name implies, vivid imagery that is simple to understand yet eye-catchy! It makes a very good beginners deck because of the simplicity of its images, without losing any of the original symbolism, and as well, it is a non-intimidating deck that will put to ease any concern that new readers may have (as well as their querents!)
Colors are of the utmost importance in this deck, facilitating the learning progress to a new tarot student! The cards come in standard size and are borderless, with very visible titles so that you can identify each card, though it is not difficult to do so once that you are familiarized with the pictures. As a weak point, the deck is not very easy to acquire and it is more pricey than other options.
6. Morgan Greer Tarot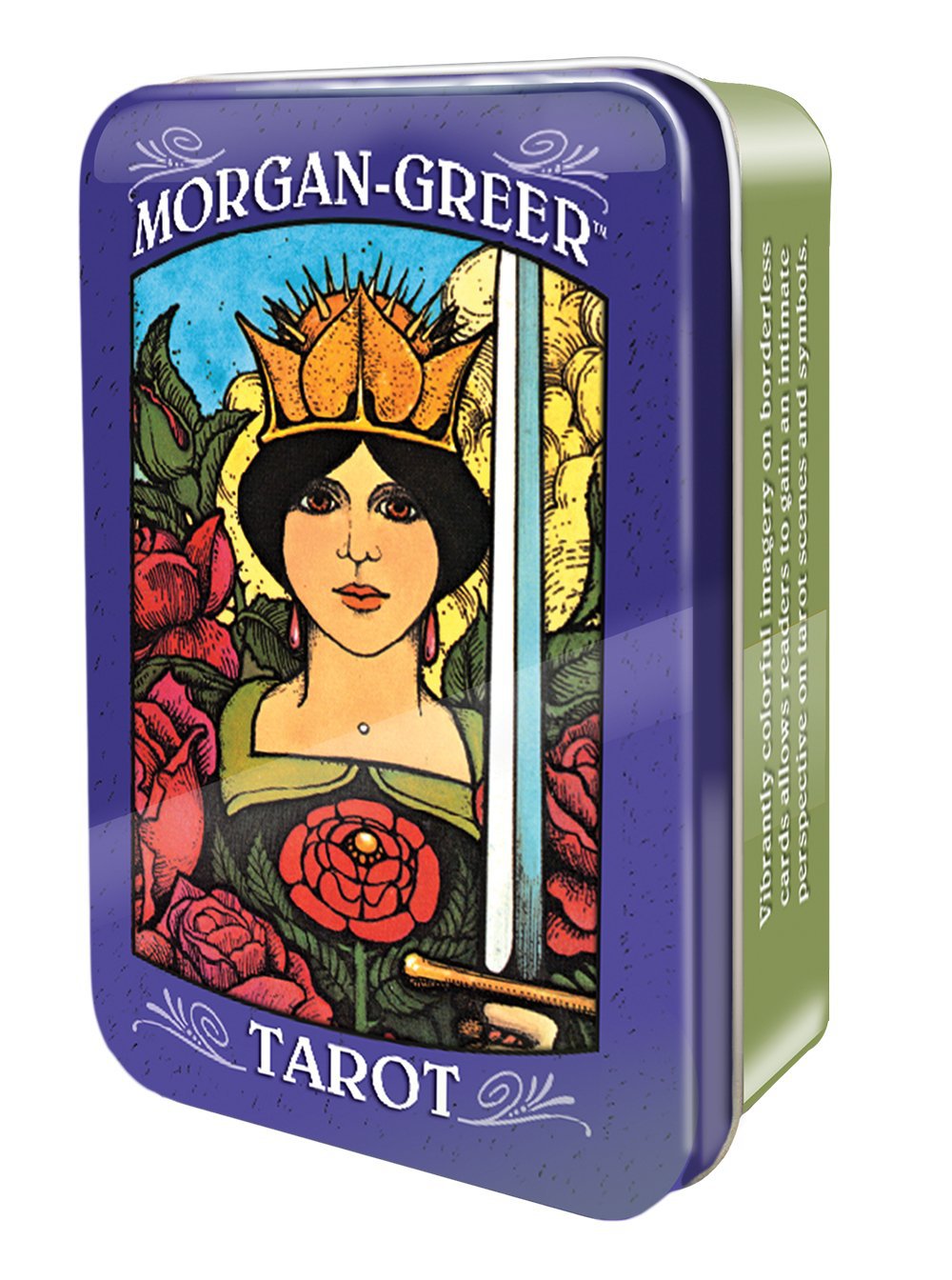 One of the classic decks! Morgan Greer Tarot has been around virtually forever and it is one of the most beloved decks out there! It is one of the best tarot card decks to use for beginners because while preserving an individual aesthetic, it easily relates to all of the traditional meanings! There are different editions of this deck, so you can get a standard size, or if you prefer something more manageable, you can root for the newest edition "Morgan Greer in a Tin".
The deck is borderless and full of color, with a satin finish that is very easy on the eyes. It possesses a very characteristic style and makes a bit of a statement! It is one of the best budget tarot decks for beginners that you can get, for it is fairly inexpensive yet a safe bet.

7. Gaian Tarot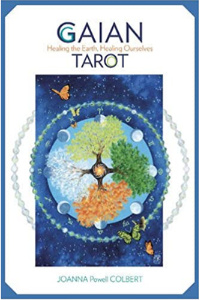 This is a very popular deck, and known to be the first for many readers! This deck will help you connect with your environment and surroundings while you start on your tarot journey. If you come from a pagan background, you will have an easy time working with this deck. It uses elemental correspondences as well as astrological ones, but in a way that is easy to grasp. However, if you are entirely new to any kind of esoteric way of spirituality, it may not be the best fit for you.

The images are soft, nature-based and with a very harmonic essence. The cards are slightly bigger than standard and come in flexible cardstock. This deck may not be adequate for all budgets, for it is a bit more towards the upper scale of budgets.
8. Everyday Tarot Mini Tarot Deck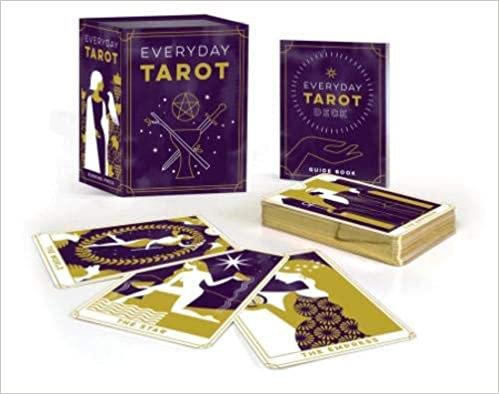 Created by Brigit Essemont, the Everyday Tarot is meant to make tarot simple to read and to learn! This is not a particularly detailed deck, and while it definitely has its charm, it may not be considered a work of art by many. Nonetheless, this deck has all that a beginner requires: It is easy to manage, the artwork is non-distracting while maintaining the original meanings and symbolism, it is easy to acquire and very, very affordable.
Besides, it is very easy to learn the basics of this deck online, and you will not have any problem translating its heavily RWS symbolism into your readings. It comes in a small tuck-box that some consider a bit difficult to open, but it is a great option to carry in a small bag wherever you go!
9. The Rider Tarot Deck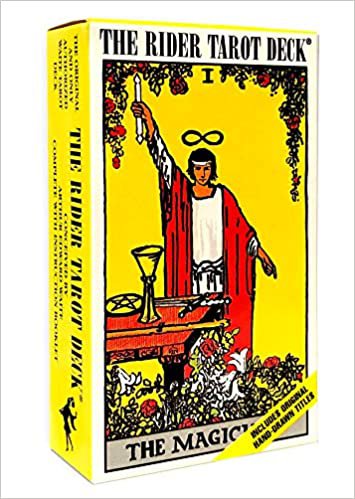 No beginners' tarot list could ever be complete without mentioning the greatest classic of all times: The Rider Tarot Deck. As stated before, there are so many different versions of RWS that it would be really hard to not find one that you love! There is even some indie recoloring that adds a vintage look to the deck that is really interesting.
The Rider Tarot is your friendly, go-to, hard-duty deck! It is extremely easy to find, very affordable, resistant and comes with the advantage that most learning material has been created with it in mind, so it will be even easier for you to understand the symbolism behind each card and start to read like a pro in no time! The original Rider Tarot is a bit bigger than the standard size and comes with white edges of medium width, though it can be found with different alterations in that regard.
10. The Essential Tarot Kit: Deck and Book Set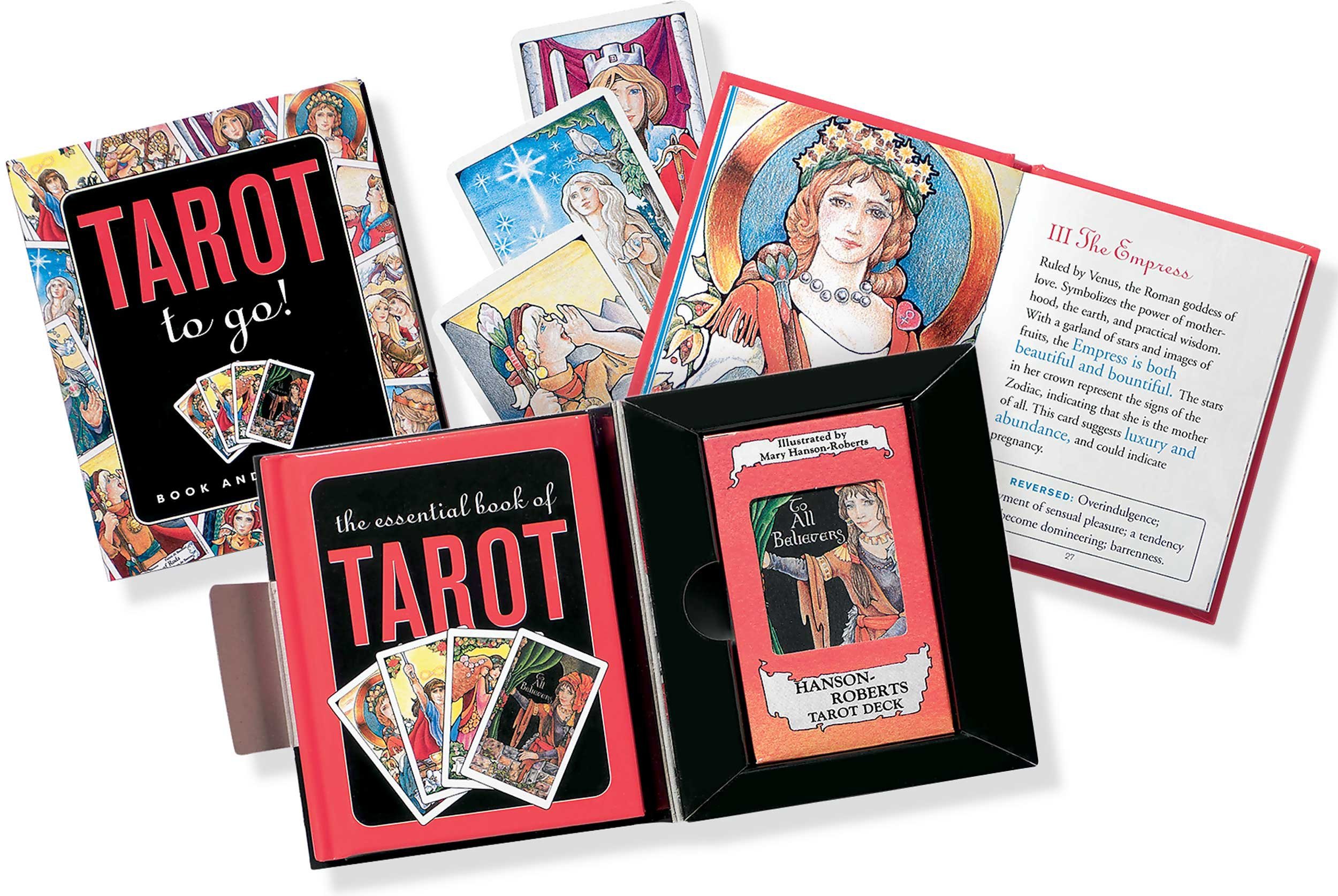 Definitely a no brainer if you are looking for the most inexpensive option! The Essential Tarot kit features one of the classic tarot decks: The Hanson Roberts, in a mini edition that is really easy to shuffle and manage.
The images in this deck are innocent and pleasant to look at. The artwork reminisces of children's books, without losing the dignity of tarot. The book that comes with it will set you up to get started, offering some tarot foundations and basic meanings that you can start to work with right away! There's nothing else to ask for at this price!
If you are not entirely convinced by the size, you can still get your hands on the original Hanson Roberts Tarot in its standard size, with satin finish and its characteristic white borders.

Conclusion
While The Rider Tarot is clearly the one that stands over all the others when it comes to choosing one good tarot card deck for beginners, in this particular case, I am going to side with The Essential Tarot Kit as the winning option!
The Essential Tarot Kit offers everything that you need to get started in the Tarot at a price that nobody can compete with, so there are no excuses for not starting your learning journey as soon as you finish this article! This lovely set will give you the opportunity to learn from a solid classic such as the Hanson Roberts Tarot - among the most beautiful tarot decks for beginners - and the accompanying book will give you enough information to start!

FAQ
Can I start learning tarot reading by myself?
You absolutely can start learning tarot by yourself with the right resources. There are plenty of sites with accurate information that is easy to understand as well as forums and groups that you can join to share your tarot journey with other readers. If you prefer a more regulated way of learning, you can always enroll in a Tarot course, where you will learn a solid foundation for your practice and develop as a reader.
Can I use any deck for my first tarot reading?
Yes! The recommendation of one deck over others is not a law. While some decks can make your learning journey easier, which is my foremost thought when choosing the best tarot card deck for beginners, it is not mandatory that you pick one from this list.
If you feel confident in your choice and you can understand what is happening on each one of the images, you shouldn't have a problem with a deck of your choice.
Books are good to study tarot?
There are many, many books when it comes to learning Tarot, but it is also common to find them repetitive. For beginners, my go-to book is "Your Tarot Your Way" by Barbara Moore, or if you want a more light-hearted approach that gives you the very bases, you can start out with "WTF is Tarot... & How Do I Do It?" by Bakara Wintner.