There are hundreds of tarot decks in today's market, so it can be a challenge to decide what your first - or yours next - the deck is going to be! What is the best tarot deck that you buy? There's not just one answer to that, but this article will help you decide!
Keep reading to walk through a practical review of each one of these 10 best selling tarot decks, their features, and strongest points, and find the newest addition to your collection!
How to choose the best tarot deck?
Regardless of what you read, the best Tarot deck is the one that works for you! It is fantastic that there are so many decks in the market because there's a perfect fit for every reader out there. When choosing your deck, make sure that you resonate with the images and you can "understand" what is going on. If you feel comfortable with a deck that speaks to you, your readings will flow naturally and it will be easy for you to learn. Another desirable quality for a deck, especially if you only plan on having one, is that it is easy to handle and to replace.
Best tarot deck for a Beginner
At the risk of repeating myself, the best tarot deck for beginners is Rider Tarot. Not only because of how clear the meanings behind the images are, but also because most books and teaching methods are based in this deck, and it is good to have something to refer to at hand when you are just beginning. If you dislike the style of the deck - some people do - and want to go for a more fancy option, The Crow Tarot is very relatable to the original Rider and each picture is just a little work of art in your hands!
How to start using the tarot deck?
The best option, if you are a beginner, is to purchase a tarot deck that comes in a set with an explanatory book so that you can start to grasp the meaning behind each card and pull some basic spreads. You don't need to have a special ritual if you don't want to! Your procedure for starting to use a new deck can be as simple as unwrapping and go and as intricate as several days charging ritual! Do whatever makes you feel the most comfortable with your deck and start your journey!
1. The Rider Tarot Deck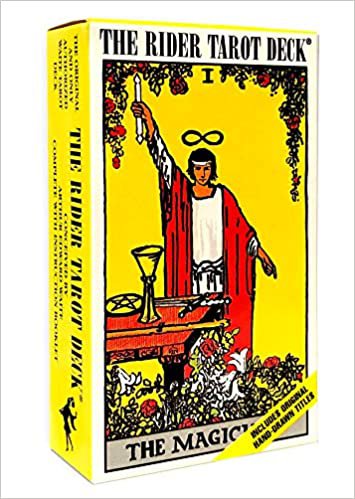 One of the best tarot decks of all time, this edition of the timeless design by Pamela C. Smith is without a doubt one solid choice. Its classic symbolism and depictions make learning the system easy. It is for this reason that Tarot Rider is the go-to choice for both new and seasoned tarot readers. It is a very affordable deck, and most tarot books are based on its imagery. If you don't like the original, there are innumerable versions with different recoloring and cardstock qualities, so it cannot be difficult to find an edition you will fall in love with.
2. The Wild Unknown Tarot Deck and Guidebook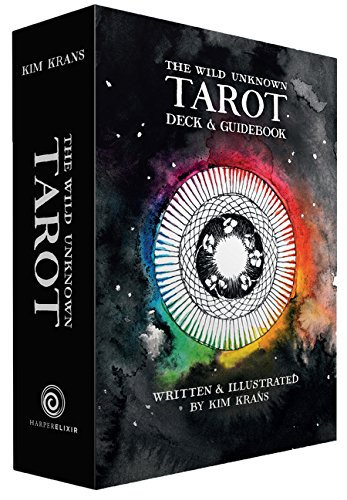 This is one of the best indie tarot decks to have made it to the mass market. This edition of The Wild Unknown deck presents a slightly smaller size than it's original indie edition, making it more manageable and a more flexible cardstock.
The guidebook is a fantastic addition that will help you navigate the intricate design of the deck and get a better understanding of each card's meaning. No human figures are featured in the deck, only animals and other natural elements. This delightful set of deck and guidebook are a collector's item on a mass budget!
3. Light Seer's Tarot: A 78-Card Deck & Guidebook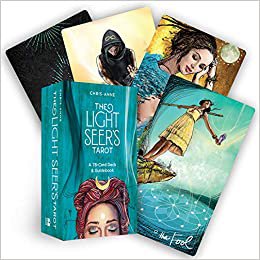 Definitely a classic in the making, Light Seer's Tarot is a colorful and very inclusive deck with an incredibly beautiful design. The most intuitive readers will undoubtedly find a faithful companion in this creation. The set of tarot deck and guidebook is one of the best new tarot decks that you can find at an affordable price.
The guidebook is thorough and to the point, and the sturdy box that comes with the set will delight the collectors. As a weak point, the cardstock is not of the best quality, therefore it's recommendable that you shuffle with care.
4. The Crow Tarot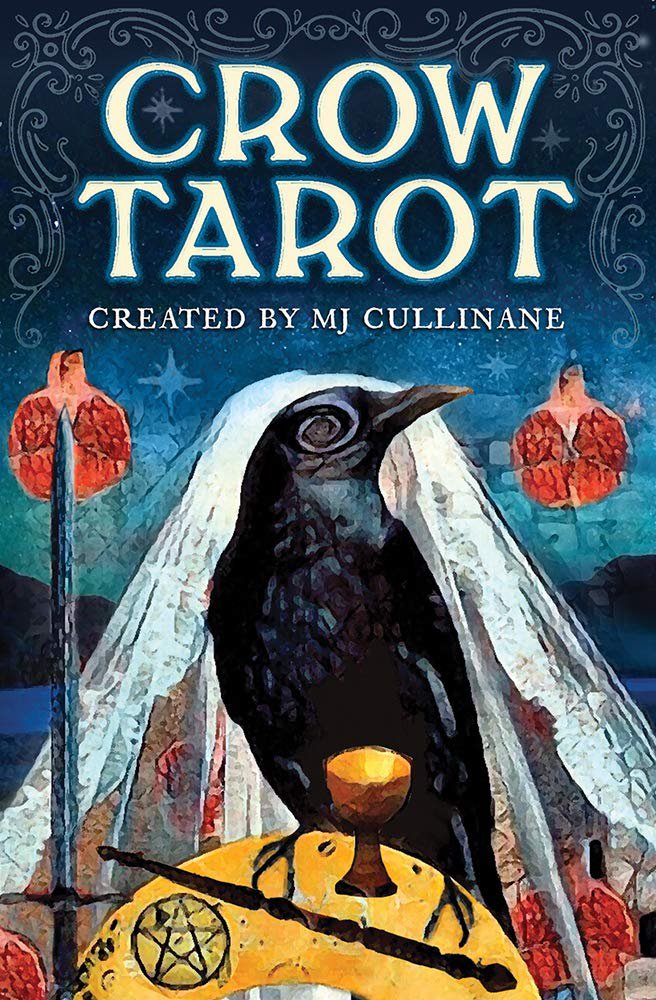 This beautiful interpretation of the classic Tarot Rider is simply fascinating! It started out as an indie deck and now it has made it to the mass market and not without reason!
The images are stunning while keeping most of the original symbolism. They are easily identifiable if you have some experience.
The artwork is beyond wonderful and the presentation couldn't be better. It comes in a two-piece sturdy box with a very complete booklet, and the cards lean more towards the oracle side in a beautiful satin finish!
The cardstock is of great quality and makes it easily manageable despite the size.
5. Everyday Tarot Mini Tarot Deck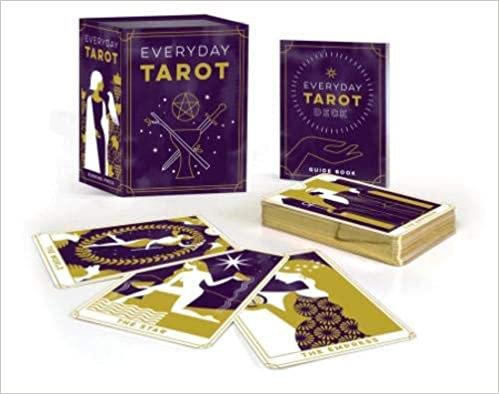 This is one of the best tarot cards deck you can buy for its simplicity. Each one of the cards features the main symbolism of the traditional system without getting lost in the details. The design, in captivating purple and gilded tones is easy on the eye and allows you to focus on what matters. Its size makes it easy to handle and carry, making it perfect for readers with small hands who have problems shuffling bigger decks, or as an additional deck to carry in your pocket, bag or purse for impromptu readings or when you travel.
6. Deviant Moon Tarot
Another indie deck that deservingly made it to the mass market!
This is one of the best tarot decks for shadow work for its intriguing design, which invites the reader to dig deeper into their unconscious.
The cards are slightly more narrow than the standard size and also a tad longer, creating a very stylized format that adds to the atmosphere.
You can choose between the standard or the borderless edition if you prefer to enjoy the artwork without the distraction of the white borders.
You can add a fairly unique statement deck to your collection at a very affordable price!
7. Modern Witch Tarot by Liminal 11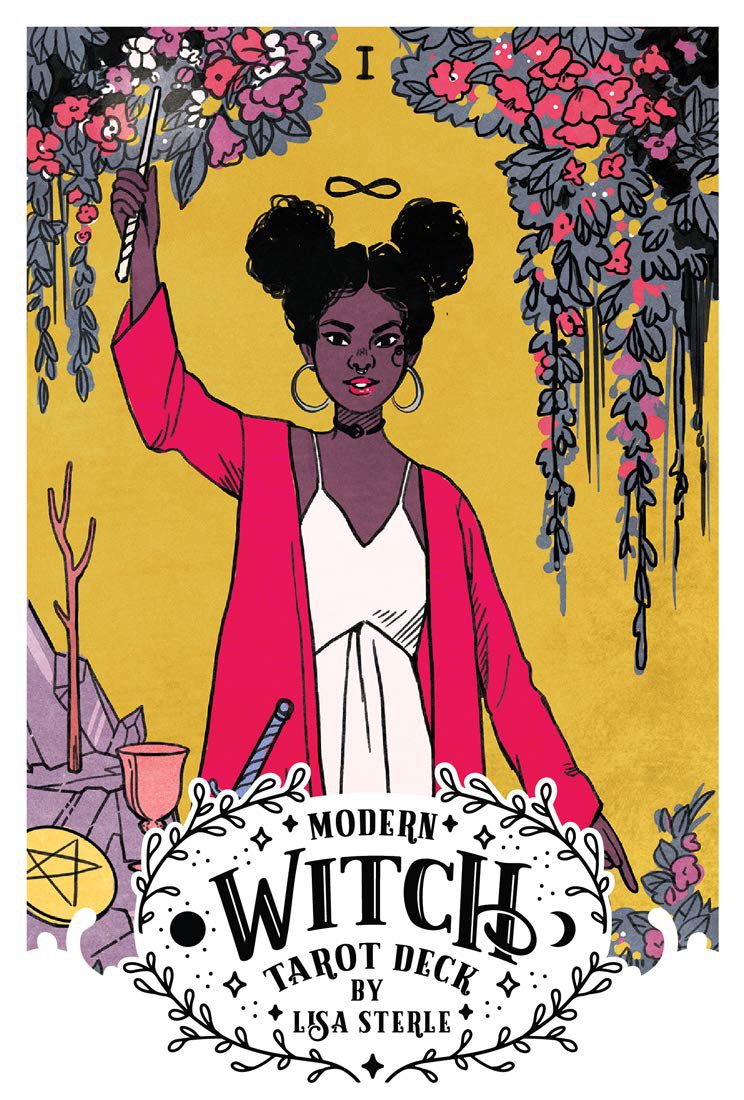 This modern reinterpretation of the traditional Tarot Rider features 78 very relatable cards that illustrate the original concepts and symbols of the original cards into everyday scenes of our current times.
It is an inclusive deck, featuring people from all walks of life in outstanding colors. Look at the classic tarot meanings as you never did before through this brilliant interpretation!
Comes presented as a set with a booklet in a sturdy box, ideal for gifting to a new reader or to treat yourself!
The cards are slightly wider than standard, yet manageable, in very flexible and easy to shuffle cardstock.
8. Everyday Witch Tarot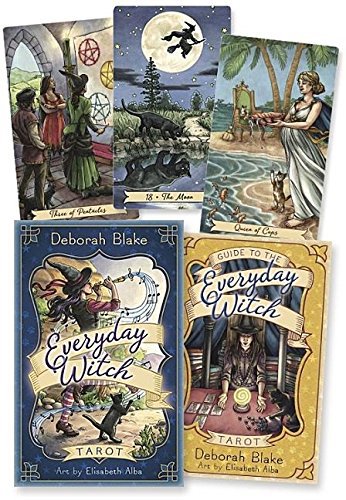 One of the most popular decks of recent years!
The reason that makes it one of the best tarot decks for beginners is how easy it is to read! A faithful version of RWS from a magical perspective.
It comes in a set with a book in full color, making it a fantastic and incredibly affordable option for those who want to learn tarot but haven't decided on what are the best tarot cards for them.
This is a borderless deck in a standard size that shuffles like a dream in satin, not too glossy finish.
9. Bad Bitches Tarot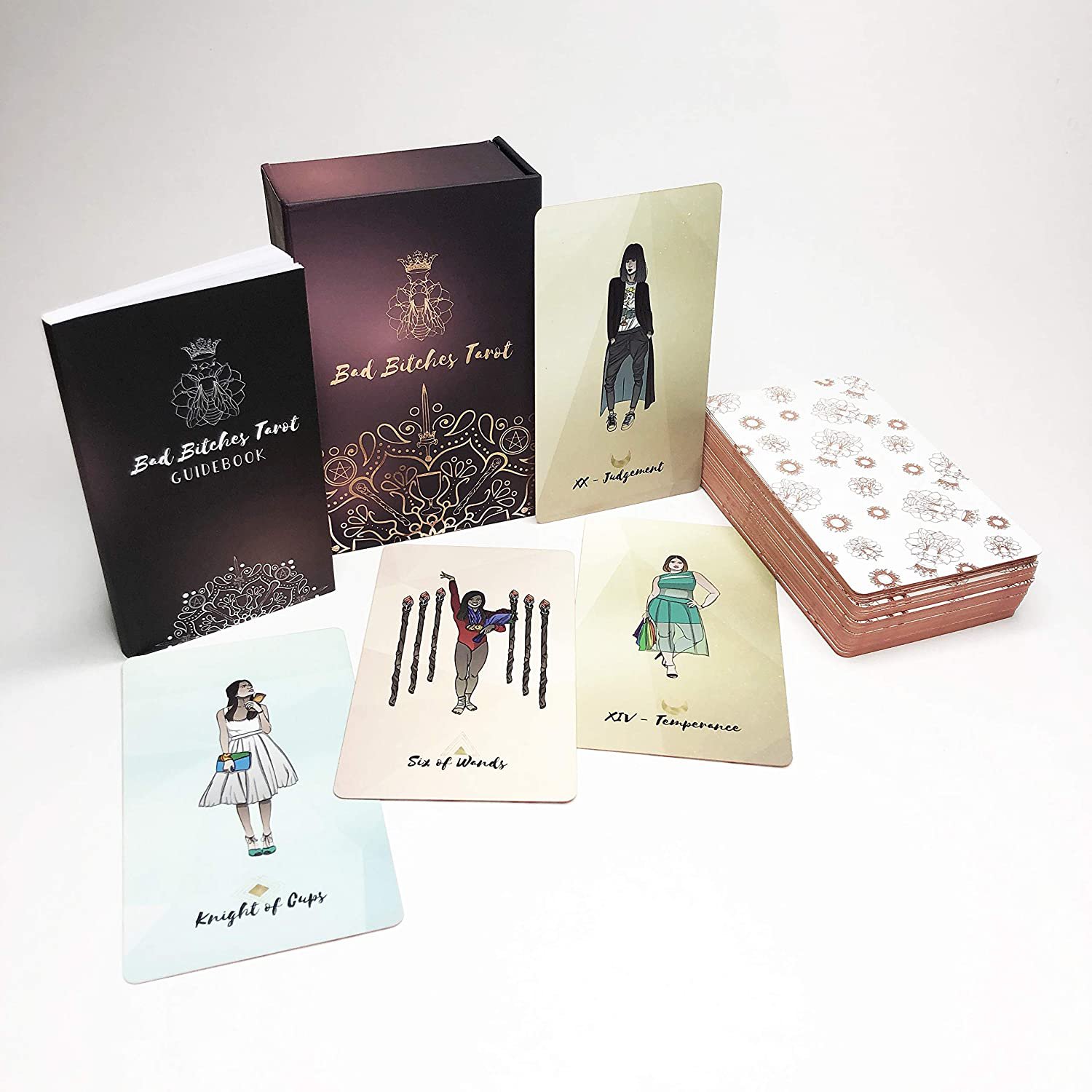 This is one popular indie deck about to make it to its second edition!
The cards come presented in a magnetic box that wraps the beautiful yet simple cards that compose this fantastic deck.
Edged in a metallic rose-gold layering and printed in quality cardstock, the deck features only women of all sizes, colors, and ages.
These are one of the best love tarot cards, for the images speak for themselves in a very simple presentation that doesn't distract the eye of the reader. The deck can be a bit pricey, especially if you live overseas, but truly worthy!
10. After Tarot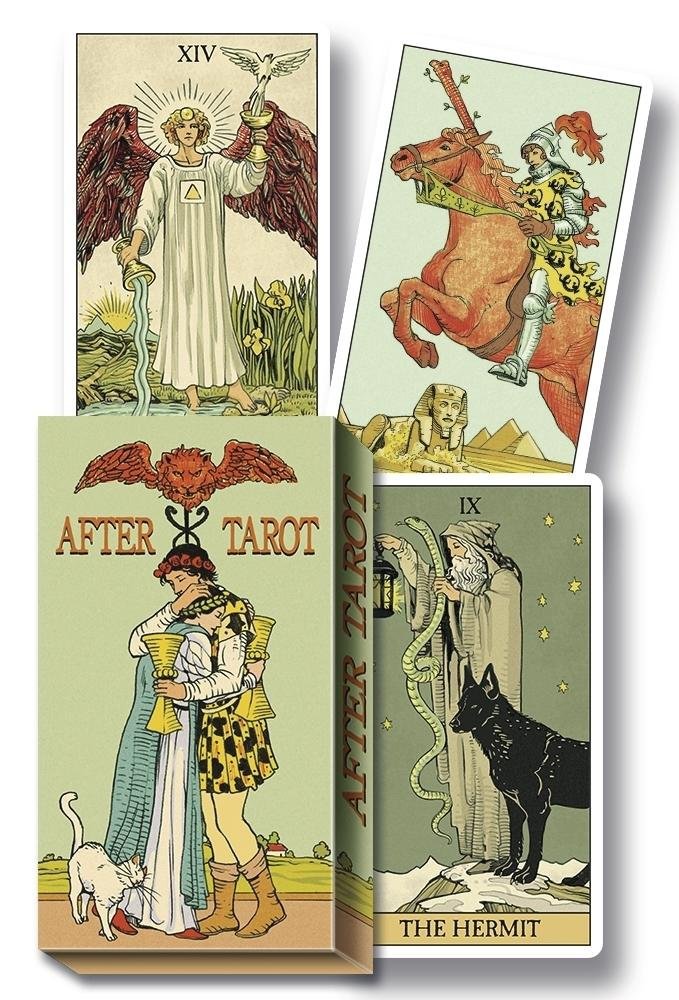 This deck is a reworked traditional RWS deck that's set a bit into the future!
The scenes depict the progression of each one of the original cards just a moment later, and it is a wonderful option to increase your overall understanding of the Tarot! The deck is so popular that shortly after, the Before Tarot was released, based on the same premise but set in the past.
The cards are beautifully colored, inflexible yet resistant cardstock and standard size, as well as budget-friendly! You have the option to purchase a set with an explanatory book, or the standalone deck.
Conclusion
A classic can never be a bad choice! Most of these decks are based on the traditional Rider Waite Smith Tarot, which is probably the all times best selling tarot deck in the market and not without a reason! While there are very interesting options in the market, especially if you are a collector, Tarot Rider never disappoints and has all the benefits of a deck that's easy to acquire, easy to read and easy to replace if something goes wrong. As well, there are so many versions of the original to choose from that it is impossible to not find one that you love!
FAQ
What is the average price for tarot cards?
This really depends on what you are buying. Tarot Rider is one of the easier to acquire and more affordable and can retail for around $15 in most shops and especially if you are buying online. Regular mass-market tarot decks range between $20 and $35, depending on the presentation and whether or not they are presented as a set with a book, or as a standalone unit. Indie decks usually retail between $50 and $70, though it is not rare to see pricier options. For decks that are collector's items or out of print... The sky is the limit! There are some sites offering bootlegged copies of popular tarot decks for $6, but the purchase of such illegal items does great damage to artists and creators, as well as it cheapens the original deck.
What are the signs of a bad tarot deck?
Everything that calls itself Tarot and doesn't have 78 cards is not a tarot deck. Aside from that, an excessively cheap tarot deck is usually a sign of an illegally reproduced copy. Other signs that you need to beware of is cardstock that is too flimsy, which is an indicator that the deck won't withstand thorough shuffling and will most likely not have a very long service life.
Should I have a tarot deck only for personal use or I can share it?
This is entirely a matter of personal preference. Some readers choose to have a deck that is for their personal use only because they consider that external energies can taint the readings, while others do not make distinctions and use their deck or decks indistinctly for themselves and others. In this case, do what you feel the most called to do and what brings you greater comfort! There is nothing inherently bad with any of those two choices.